July 18
We sail from St. Vincent to Bequia and discover a flaw in our trip scheduling.
Today was the day we left on our sail boat section of our trip. In the morning, we packed up. Everything was damp. It must have been so humid yesterday that when the temps dropped, water condensed on everything. Not like the dew we get up north, but everything was damp just the same. So we packed up in sections. Things that were dry were separated from things that were wet, things that were dirty were separated from things that were clean (Joel's hiking shirt was separated from everything else). Eventually we were all packed up except for the things we had asked Petit Byahaut to wash for us yesterday. Brian said they would have them ready this morning (1).
We had the usual for breakfast, a fruit plate and eggs. Then we went out for our last swim in the bay. The water was cloudy compared to other days. And there were jelly combs floating by. We saw some with wings which they used to propel themselves along. The jelly combs were very beautiful, clear all the way through with phosphorescent lights running up and down their sides. Some of their lights were blue, some had green lights, and some red, but they were all beautiful.
I (Daphne) got a slight sting that went away quickly. Then, when we returned to shore, we looked up the jellyfish in the reef creature identification books. One of the jellies I saw was a true jelly fish; the others were combs, and jelly combs don't sting. I forget the name of the jelly fish I saw but it was very small and had little nodules hanging down.
When we finished out swim, Jeremy, Fortitude's owner and captain, was coming in (by dingy) to pick us up. He showed us around the sailboat that would be our home for the next five nights, and introduced us to his mate, Vanessa. Jeremy also want over the rules of the boat -- always hold onto something when walking on deck, take your shoes off when entering the boat, always secure all you gear in case the boat heels, etc. He also showed us how to use the toilet (2).
We were headed for Bequia (bec-way) today. Jeremy said it was 10 miles away. There was no wind at all in the lee of the island, but once we got past St. Vincent, we zipped along quickly. On the way we saw a small pod of dolphins.
During the ride, I was reading Jeremy's guide book. It was a sailor's guide book so had information about the island that a sailor would need. My guidebooks just had the points of interest, but the sailing guide book had all the information about the channels, and how to get from one island to another, and what supplies are available on each island, and where you can fix your boat and get parts (3). A slightly different slant for a guidebook.
The sailboat pulled into Admiralty Bay, the main harbor in Bequia, next to the main town, Port Elizabeth. Once Jeremy found a mooring spot he liked, he dropped anchor. We had lunch on board the boat not long after we got to the harbor. I had salad, Joel had bread and cheese and Danish salami.
Bequia is both more and less pretty than St. Vincent. The town (Port Elizabeth) is charming and seems to be kept up well. In contrast, St. Vincent seems much more run down and the people seem very impoverished (4). But the island of St. Vincent is stunning with the volcano that rises 4000 feet in the air. Jagged peaks everywhere and many of the houses built on the hill side. Bequia doesn't have a volcano; it's beaches seem yellow and not black like St. Vincent's. There is very little obvious agriculture on Bequia; the houses all have their little gardens, but no major banana farms. Jeremy tells us it has become a great island for the sailboats since you can get anything you need for your sailboat here.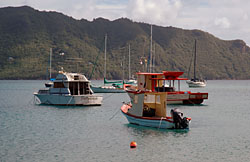 After lunch we went for a walk up to one of the main "forts", scattered around the island. The fort we visited, on the point at the West end of the North shore of Admiralty Bay, wasn't really a fort, but just a gazebo with some canons. But it had a wonderful view of Port Elizabeth. The hike up, however, was hot. The hill was steep, but very short. Joel and I were feeling little twinges from our hike up the volcano in our calves. All the houses seemed to have gardens and goats. And a few dogs wandered around looking very hot.
During out short hike to the fort, I had a footwear failure. My sandals, which I have had forever, started chafing my toe. By the end of our hike, it had gotten quite annoying and no amount of makeshift padding seems to alleviate the rubbing. It was obvious that I needed a new pair of sandals, and fast (5). The good news was that we were in a tourist town, Port Elizabeth.
And now for our scheduling flaw. During our entire time in the Grenadines, we never looked at a newspaper, or television screen, or even listened to the radio. Every day was the same as every other. But, that was not really true. Since we arrived on St. Vincent on Wednesday night and stayed four nights, we pulled into Bequia on Sunday. We wanted to see all the shops, but of course they were all closed for Sunday. Bad timing on our part. If we had left Boston a day later we would have hit Port Elizabeth on Monday. But all is not lost. We would stay overnight in Admiralty Bay and go into Port Elizabeth the next morning.
After our short hike, it was time to get wet. Joel didn't want me to go out to the sea grass beds where the turtles were (because of the high level of boat traffic) so I hung out close to the boat and explored there. I saw huge flying gurnard and some squid. I also saw a weird worm crawling along some of the algae.
I thought I would just stay in my bathing suit all day long, but it doesn't dry that quickly and I was tired of being wet. So I get dressed for dinner and will probably do the same for the rest of our time on the sailboat. Our first dinner on the sailboat was jerked pork. Jeremy cooked it on the little barbeque grill attached to the side of the boat. After eating we were tired, so we laid down in bed and read our books for a while before falling asleep.
Roughing it in the rain forest
This is a summary of what it was like to stay at Petit Byahaut. Staying at an eco-resort in the middle of the rainforest is a little different than staying at a standard resort hotel. Some people (like us) will love the advantages of living with nature, some will hate it. What are your trade offs?
First of all, although each suite is very private, the privacy is provided by the rain forest and not by walls. If someone were to walk up the path to your suite, they would be able to easily see into your suite (although the toilet is usually hidden from the entrance). For us, this was not much a problem. We were the only guests at the resort, so nosy neighbors were not a problem. And Brian (the resort manager) went out of his way to respect our privacy. In fact, he avoided doing any work on the infrastructure anywhere near our hut while we were in the suite.
Next is the water situation. This eco-resort uses the water that nature provides. The rainwater is collected from the roofs and heated with solar panels. Waste water from our showers went to the flower beds outside the bedroom area (don't put your shoes out to dry near that area). As we were there during the rainy season we had no issues with using as much water as we wished, but it might be an issue in the dry season.
Although there were lights in the suite, there were no electrical outlets. Don't expect to run a hair dryer or plug in an electric shaver. Solar generators powered the entire resort, with a diesel backup. And during the rainy season, there was no shortage of water but electrical power was more of a concern since it was not sunny all day long. At the beginning I was concerned about running the ceiling fan all night, but Brian assured me that running the fan was not a problem.
To recharge the camera batteries (which I need to do every few days), I had to use the electrical outlets in the kitchen. Those outlets, which produce standard US 110 volts, are driven from an inverter, a device that creates AC power from a DC source. The inverter itself is very wasteful so you do not want to use the AC power much, and I had to remember to turn off the inverter as soon as the batteries were recharged. (Its a sorry state of affairs when we have to run an inverter to convert low-voltage DC into high-voltage AC just so the transformer attached to the battery charger can convert the AC back into low-voltage DC.)
The two disadvantages with living in the rain forest were the insects and the humidity. If our clothing got wet, we would hang it up to dry but the clothing was often wetter in the morning. Not because it got rained on, the roof over the suite seemed quite watertight. But because the humidity was so high, everything tended to stabilize at some a point somewhere between dry and damp. Even our books were a little affected by the humidity (curling pages and the like), and I was careful to always keep the camera equipment in watertight containers.
Then there were the insects. The mosquitoes were not bad, but there were biting flies that left our lower legs covered in red dots. This was the same problem that we had on our trip to Eleuthera (the "Eleuthera measles") (6). There were also other insects - not all of them "bad". We saw a few crickets on the floor of the bathroom (one that was really huge and beautiful), and once I had to shake a cricket out of my sneaker. There are also spiders. No webs in the suite, but once I saw a spider on the wall of the bathroom, next to the toilet. I never told Daphne (its not what you want to think about when you get up in the middle of the night to visit the toilet in the dark).
That said, there are some wonderful advantages to living in the rainforest. While brushing your teeth you would be watched by a lizard on the (glassless) windowsill, and you would be looking out over a cactus and flower garden. Sitting down in your suite to read, you are surrounded by plants in bloom and serenaded by the noises of the forest, including birds, frogs and insects. Occasionally a beautiful hummingbird will buzz by. And you had a real feeling of privacy since you were surrounded on all sides by the forest and the hillside. You are totally surrounded by nature.
In addition the resort is beautifully landscaped with flowers and fruit trees. The fruit trees are working fruit trees, not just decoration. I saw a passion fruit being picked one morning right before breakfast. And mangos were in season when we were there. They were the best mangos I've ever had. I don't know if these particular mangos were grown at the resort, but YUM. And though this has nothing to do with the rain forest, I have to mention that Petit Byahaut had the best food. Chuckie is a great cook.
In addition to the natural fauna, there is a cat, Feisty and two dogs, Matty and Brody. If you love cats, you will love Feisty. He is very sweet. However my husband doesn't particularly like cats. So we kept tossing him out of our suite. Of course when we put the cat out, it would just come back, since there are no walls. Feisty could not get into the bedroom area, because the bed was completely enclosed in a screen-in porch. So when we were in bed, the cat would make do with walking on the roof of the bedroom (often in the middle of the night).
We both loved the dogs, especially Matty. Both dogs were very friendly, and unlike the cat, the dogs stayed away from the suites. But in 2004, Matty was still very much a puppy and when we first met Matty on the beach, she tried to tackle us into the sand.
So if you love the idea of living in the rain forest, will all its advantages and flaws, you will love this place. You are enveloped in nature; living in a relatively undeveloped valley with no roads; swimming in crystal clear water with swarms of fish. It is a real haven from civilization. However if you need to blow dry your hair every morning; can't stand the insects; or need to check the Wall Street Journal each day, go somewhere else.
Footnote 1: We knew that laundry was going to be a challenge on the trip. We did not want to pack for two full weeks, since we wanted to travel light. That meant that we would have to do laundry while traveling. The sailboat has no washing facilities, and although they would put into port for us to use a laundry mat, we did not want to spend our vacation sitting in a laundry mat. So we planned on having the two resorts, Petit Byahaut and Petit St. Vincent, do laundry for us. On the morning of July 17th, we dumped a pile of dirty clothes on Brian and asked him to have them washed. They were washed that morning, but Petit Byahaut has no clothes dryer, so the clothes had to air dry. This took all day and all night, and we got them back the morning we were scheduled to leave. As for the second cleaning, well, you can read about our experiences with Petit St. Vincent's laundry service later in the journal. Fortunately, attire on the sailboat was just bathing suits and sun shirts.
Footnote 2: It seems that everyone who is considering a trip on a sailboat spends an inordinate time worrying about the sailboat's toilet. I know we did. When we first schedule the trip, we were given a list of a few boats that were available. The first question we asked of each was, not how much they cost, but whether they has electric toilets. Cat Maudy, the sailboat we were on in the Virgin Islands had electric toilets. But all the boats in the Grenadines, had manual toilets, including Fortitude.
Anyway, after doing your business, you flip the lever one way, pump a few times to put water in the bowl. Then you flip the lever the other way and pump a bunch to move the contents of the bowl through the plumbing. Then you flip the switch and let the electric motor move everything to its final resting place. Then turn off the motor and flip the lever back. Or, do you flip the lever back? And do you pump a few times again when you are done, or not? Daphne and I could never remember and that lever, which was always supposed to be left in one position or the other, wasn't. Oh, well.
Footnote 3: One of the things mentioned in the guidebook was "Daphne's Boutique" in Port Elizabeth. Well, since we were in Port Elizabeth, I had to go out of my way to find Daphne's Boutique and take a picture. We never went inside, however.
Footnote 4: Part of our perceptions of the level of affluence of the natives has to do with the places we visited. At St. Vincent, we drove through a few of the non-tourist towns on the windward coast on our trip to the volcano. But on Bequia, we pulled into a tourist town, whose whole purpose seems to be to cater to the rich yachters who visit, re-supply and moor in the bay. But there is poverty on Bequia as well, consider this picture showing the contracts between the classes on Bequia.
Footnote 5: Daphne was not the only one who needed to do some shopping. While hanging out on the sailboat in Admiralty Bay, my hat blew off in the wind and landed in the water. At the time Jeremy was swimming around and he was gallant enough to dive under the boat and rescue my hat from the ocean bottom. But it made me realize that I really needed a backup hat.
My hat was not the only thing that Jeremy found on the ocean bottom under the boat. He also pulled up a small glass bottle that contained an octopus. After dropping the octopus on the desk for us to gawk at (just like tourists), he let it free (the octopus, not my hat).
Footnote 6: It is worth nothing that Naturapel brand of insect spray worked to completely keep the biting gnats off out legs. We recommend that anyone who visits the island bring this (or some other brand) of insect spray.




Introduction | July 14th (travel day) | July 15th (Falls of Baleine) | July 16th (Petit Byahaut) | July 17th (La Soufriere hike)
July 18th (sail to Bequia) | July 19th (Union Island) | July 20th (Sandy Island) | July 21th (Tobago Cays) | July 22th (Petit Tobac)
July 23th (arrive at PSV) | July 24th (West Side Beach) | July 25th (Atlantic Beach) | July 26th (Mopion) | July 27th (travel day)
Photo Galleries

GouldHome | Travel Journals
Text and images © Copyright 2004 Daphne and Joel Gould. All Rights Reserved.
For comments or suggestions about this site contact Daphne Gould.