July 14
We fly from Boston to St. Vincent, and explain why US Airways went bankrupt.
The biggest problem with traveling to the Grenadines is getting there; there are no direct flights from the mainland US. This is because St. Vincent and the Grenadines don't have any jet ways, and only the puddle jumpers can land at its airports (1). To further complicate matters, most US cities (i.e. Boston) have no direct flights to Barbados, which is the usually transfer point for flights to St. Vincent.
So first it was off to Philadelphia, using US Airways. We were an hour late taking off from Boston, and our connection only had a one hour layover. We hightailed it over worrying that our luggage would not make it, but we saw at least one of the bags get loaded onto the plane. Then, of course, the flight to Barbados was delayed. It was two hours late (2); but we only had one and a half hours between flights in Barbados, which included getting our baggage and going through customs.
Indeed when we got off in Barbados, we discovered that we had missed our connection to St. Vincent, and the flight after that as well. But, there was one last flight to St. Vincent that evening, and they had space for us (3). So, when we finally arrived in St. Vincent, we were about 3 hours late. This was not too much of a problem (we had no other plans for this day), but Robert Taxi was supposed to pick us up from the St. Vincent airport after we landed and take us to the dock to go to Petit Byahaut. Needless to say, when we finally got to the St. Vincent airport, Robert Taxi wasn't outside.
We had called from the Barbados airport and left a message at the resort saying that we were going to be on a later flight, but it was just a message on their machine and we weren't sure it would be in time for them to tell the taxi service (4) (5). But once we got to the St. Vincent airport, a nice local man asked us if we needed a taxi. We told him our situation and he called Robert Taxi for us, who said that they would be right over. People on St. Vincent seem to be very nice and helpful. (An initial observation that would prove true for the entire trip.) (6)
Robert Taxi picked us up in a few minutes and drove us over to the dock, which was about 20 minutes or so away. Our driver was a local who was Scot-Irish, and kept telling us he would get us there and make us happy and we shouldn't be afraid. I wasn't nervous at all before, but the comments made one wonder what had happened recently that made him keep saying we would be safe, over and over. Not that Joel and I were worried about anything. We weren't staying in Kingstown, we were staying at an isolated resort. The resort wasn't connected to any road, and the only way to get there was by boat.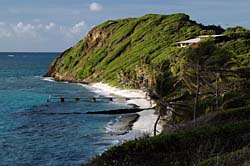 Joel adds: the trip from the airport was definitely unique. First of all it was dark, mostly because of the lateness of the hour but also because it was overcast and threatening rain. Then there was that strange stop part way through our journey while the driver tried to find the car phone antenna (which he never found). Without the antenna, he couldn't call the resort -- or could he? I tried to do some sightseeing as we drove, since this might be the only time that we might be in Kingstown, but it was dark and hard to get my bearings. When we finally got to the dock, it was at the end of a long, unpaved road and the dock itself was dark and deserted. Although I was not worried, in hindsight it does kind of make you wonder, being taken in a strange cab, down a dark road, to a deserted spot on the waterfront.
Well Brian did eventually come by to pick us up at the dock and bring us to the resort. Once we got to the resort Brian put our bags in the office and sat us right down to dinner. He figured it was late and we must be starving (we were). I ordered the tuna and Joel tried the jerked pork. They were both fabulous. Despite being too tired to eat, I gobbled mine down and helped Joel out with his. They were also beautifully presented. My tuna was cut down the middle and twisted. It was put on a mango sauce (yum) and had a chutney on top. Joel love it too, and, I think he was surprised by that. The jerk pork was described as being mango based and he, of course, is always skeptical of fruits. But he loved his as well. I, on the other hand, always love fruit based sauces; they are probably my favorite type of sauces. Meat and fruit should always go together.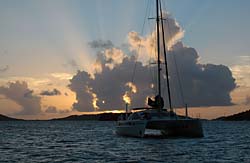 A few comments about our host. Brian comes from Colorado, where he had been a chef. He took over running the resort in 2003, and now lives there with his family. The resort is small and Brian does many of the jobs himself -- he ferries passengers around in the dingy, checks the guests in and out, acts as bellhop, bartender, backup chef, events coordinator and handyman. The main chef at Petit Byahaut is Chuckie, whom we met soon after we arrived. Chuckie is a large, native man and his food is to die for.
After dinner, we when straight to our rooms; we didn't unpack or look around, but just collapsed on the bed and tried to sleep.
---
Footnote 1: It is precisely the lack of jet access that makes St. Vincent so nice. Since it is hard to get to, it remains a quiet, unspoiled island. That said, there are plans to build a jet way on St. Vincent and add a number of new, large resorts. If you like out of the way places, visit the island now before it gets over built.
Footnote 2: The delays in Philadelphia were because of overcrowding, not weather. US Airways has really done their customers a disservice by using Philadelphia as a hub, an airport that does not have enough runways to handle all the US Airways flights that are scheduled to leave at the same time. In late 2004, US Airways filed for chapter 11 bankruptcy and announced that they will be dismantling their hub and spoke system in favor of more direct point-to-point flights. That said, until they finish the transition, I would avoid using US Airways through Philadelphia if you care about on-time arrival.
Footnote 3: More anti-US Airways flaming. When we landed at Barbados, the US Airways representative was there to meet us and help us with our connections. They had rebooked some of the passengers who had connections, but they failed to rebook us. Instead we had to go to the US Airways counter, and then the Liat counter (the airline that went to St. Vincent) to get rebooked. Good thing we packed light because we were dragging our luggage around with us the whole time.
Footnote 4: Our wonderful AT&T calling plan could not help us make a call from Barbados to St. Vincent. Nor could the Barbados telephone company since all their service lines were busy. Instead, we had to change some US cash into Barbados coins so we could use the pay phone the old fashion way. Using coins worked, but I still have some unused Barbados currency sitting in my drawer.
Footnote 5: You might wonder why we could get only an answering machine at the resort. Well, Petit Byahaut is very small and secluded, and they have no fixed-line phone service at the resort itself (although cell phones can sometimes get through). Instead, the published resort phone number rings an answering machine at their rented office in the next town, and they check occasionally for messages.
Footnote 6: It was nice to find that all of our experiences were positive. St. Vincent is a poor island. One of the best cash crops they have is marijuana. It is illegal there, but still they grow it. The US wants to stamp it out, and thus take away their money. Many of the islanders resent this, and thus resent Americans. This is changing however. They are trying to switch over to a more tourist based economy.




Introduction | July 14th (travel day) | July 15th (Falls of Baleine) | July 16th (Petit Byahaut) | July 17th (La Soufriere hike)
July 18th (sail to Bequia) | July 19th (Union Island) | July 20th (Sandy Island) | July 21th (Tobago Cays) | July 22th (Petit Tobac)
July 23th (arrive at PSV) | July 24th (West Side Beach) | July 25th (Atlantic Beach) | July 26th (Mopion) | July 27th (travel day)
Photo Galleries

GouldHome | Travel Journals
Text and images © Copyright 2004 Daphne and Joel Gould. All Rights Reserved.
For comments or suggestions about this site contact Daphne Gould.