July 24
We visit the West Side Beach for some snorkeling and lunch, and consider the business potential of starting our own competing laundry service on PSV.
Joel was up early to take photos of the sunrise, which was just outside on our balcony (1). But it was too early for me so I slept in for another hour. We got to the dining room precisely at 7:30, when they open for breakfast (2). The dining room was empty; it seems most people like to sleep in. But, I don't know how they do it after the sun starts shining in their eyes (many of the cottages face east).
The resort's French toast was good, though Joel was neutral on it. It was flavored with almond extract and a little banana. And, of course, they give you real Vermont maple syrup. I come all the way down to the Caribbean and eat the same stuff I have at home :-). Their fruit salad, on the other hand, was less than spectacular (3). I hate little bits of fruit and that is what they gave me; small pieces of watermelon, oranges, cantaloupe and pineapple. I wanted ripe fruit from the islands. Yes pineapple, but with mangos and bananas. The mangos have been so good on the trip so far, but PSV doesn't seem to serve them. I'll have to order mango by itself tomorrow so I can have some.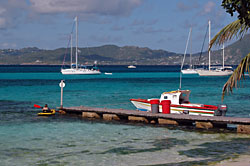 After breakfast, we asked at the office if we could see some of the other cottages. They told us that cottages 7 and 21 were empty and we could just walk right in. Cottage 21 was close to the dining complex. The cottage was ok. The inside was much like ours, but it's porch was smaller and had very little privacy. In our cottage, on the other hand, you can run around naked on our deck and no one will see you if no one is down at the beach (and they are far away anyway). On the other hand, you could see the cottage 21's deck from the road. Although, being at the top of the hill, cottage 21 does have a little better view than cottage 4, (but, that is also debatable).
Cottage 7 was one of the double beach cottages. It would be a great cottage to use if you brought kids with you. The cottage is actually two cottages, each with the sitting room and bedroom, separated by an outdoor patio. Each of the smaller cottagelets has its own bathroom. Cottage 7 (as with all the beach cottages) it is not very private since it is right on the beach, and people can easly look right in. But if you are bringing your kids you aren't looking for privacy anyway.
In the morning we whiled away the time by reading and playing games (4). Then we went over to the West End Beach for lunch and snorkeling. We walked over to the beach and grabbed beach hut B (5), near the southern end of the beach. Then, we dropped our stuff and went snorkeling.
When you first enter the water, there is really nothing interesting to see. But you can go left (around to the south) and see some nicer coral. It is very decent snorkeling (6); we saw some squid, a rock hind, a golden tail moray eel and some pretty coral.
However, after the Tobago Cays, the snorkeling just didn't stand up. We got out of the water a bit after noon and went down to the signaling flag (there is one at West End Beach near beach hut D), to order lunch (7). We timed it right; there was a little car coming by to check the signaling flag just as we were done writing up our lunch order.
While waiting for lunch to arrive, we lounged around. Joel liked the hammock and I liked the lounge chair. The resort keeps each beach hut supplied with ice cold water in an insulated container, so we didn't go thirsty. As we lounged around, we commented that it was so hard living in paradise -- it was so pleasant. The breeze was just enough to cool you off so we didn't get hot. And the gorgeous beach was right next to the little hut they have for shade. It really made you never want to leave.
Eventually lunch came, so we had to eat. Their hamburger was just OK, nothing special. But the fish burger was to die for, yummy. It came with tomatoes, avocado and cabbage on the side. So, of course, I got to eat Joel's too. In addition, I ordered the fruit salad with lunch, but it was the same as it was for breakfast. I keep hoping for mangos and bananas in the fruit salad.
As it happens, fresh bananas were available at the beach. They have a little contraption by the signaling flag that looked like a big wooden bird cage. It was a banana holder, designed to keep the birds out, leaving the fruit for the guests (8). So, of course, I had one, yummy.
We lounged around the beach hut for a while after lunch. It was a hard place to leave. But I wanted to see the resort's boutique. So we packed up, and walked from the beach to the dining complex, where the boutique was housed. The Petit St. Vincent boutique was OK, but I couldn't find anything that our kids would like. I ended up only buying some aloe lotion for my poor sun burnt legs.
Also at the boutique they let you check out things for your room. They have books, puzzles, games and weights. We picked out a 1000 piece puzzle to do when we got back to the room, and I ordered a weight for exercise (that was delivered for us). We worked on the puzzle in the afternoon, but at the end of this day it was still sitting, unfinished, on our table (we finished it the next day).
So far there has only been one real negative about the Petit St. Vincent resort (9) -- the laundry service. If you remember from the previous day's journal, we had a bunch of damp clothing that we gave to the resort to clean (laundry is one of their services). The afternoon of this day, we asked about our clothing. The resort looked into it and said that it would be ready tomorrow (two days after we arrived). Two days to do a little laundry seem awfully excessive. I could have done them in the sink and had them already. And I needed one of the shirts for tomorrow.
Joel went off to take photos of the sunset while I wrote in my journal. Yesterday, Joel had taken sunset pictures from the Little Bluff, just down the road from our cottage. But for this evening, Joel decided to walk down the forest trail almost to the West End Beach to get a most interesting picture of the sunset.
At 7:30pm we went down to the beach (on the southwest side of the island) for a barbeque (10). They always have a barbeque for lunch on Wednesdays, and for dinner on Saturday. There weren't many people there when we first arrived, but the steel drum band was playing. Joel thought that the band was good, but not as good as the one on Grand Cayman that we had listened to years ago.
They had a large buffet at the barbeque, but still no mangos. I really miss the mangos from Petit Byahaut and Fortitude, both. I ordered a rum punch and it was not bad, but again the other two places were better. They asked us what we wanted from the grill. We had four choices -- steak, chicken, shrimp and kingfish. KINGFISH. Jeremy had told us that kingfish here meant Wahoo. And Wahoo is our favorite fish. It was too bad that Jeremy didn't catch a wahoo while we were on the boat. So Joel and I ordered shrimp and kingfish. The kingfish was fabulous. The shrimps were good too, but the kingfish was the best. As we ate, more and more people came down form their cottages and took up tables. We had trouble finishing all our food, but such is the trouble you find in paradise.
All about the Petit St. Vincent signaling system
There are no phones in the cottages on Petit St. Vincent. Instead, the staff has set up a system of signaling flags. Outside every cottage are two flags, one yellow and one red. There is also a small bamboo tube below the flags.
Inside your cottage is a book with a series of forms for various services. There are forms for ordering food (if you want to eat in your room), ordering drinks (including morning coffee, afternoon tea or something from the bar), arranging transportation (intra- and inter-island), cottage maintenance and laundry. If you want anything, all you have to do is fill out the appropriate form, stick the rolled up form in the bamboo tube and raise the yellow flag.
The staff makes regular rounds looking for raised flags. If they see your flag is up, they fetch the form and fulfill you every wish (unless you wish for your laundry to be returned). There is obviously a delay, you can not expect to get your drink 5 minutes after raising your flag, but if you plan a little ahead the staff is happy to wait on you hand and foot.
The red flag is for privacy. If you raise the red flag, it means you do not want them disturbing you. Otherwise, they will knock on your door if they have anything for you, both things you asked for and, as happened on a few different occasions, notices from the manager (11).
Footnote 1: Actually the sunrise was thousands of miles away. But we had an unobstructed view of the eastern horizon from our balcony. In fact, I would sit up in bed and almost see the sunrise from there.
Footnote 2: Our clock was definitely out of synchronization with the Caribbean. We are used to waking up with the sun, we do so at home and we did so on our vacation, but the resorts are not really designed around early risers. The meal schedule at Petit Byahaut and Petit St. Vincent is obviously setup assuming guests sleep in every morning and stay up late every evening. Even on Fortitude, we would always go to sleep and wake up earlier than Jeremy and Vanessa. Petit Byahaut was the worst since breakfast was not scheduled until 9:00am.
Footnote 3: It was easy to get spoiled by that directly-from-the-tree fruit at breakfast that we had at Petit Byahaut.
Footnote 4: We played Starship Catan, a fun little two player game that we brought with us. It takes a bit of time to play, so we didn't bring it out until we were at Petit St. Vincent. For those briefer periods of time (like when we were waiting for dinner to start at Petit Byahaut), we played Lost Cities. When traveling to the Caribbean you have to keep in mind what is important to pack -- snorkel gear, camera equipment, books and games. We also packed some clothing, but as you will see if continue reading, we could do without most of our clothing.
Footnote 5: There are a whole bunch of beach huts, A through M, and we looked at most of them. Many were already occupied; the West End Beach seems to be a popular spot.
Footnote 6: Joel says: it was OK snorkeling, but not great. The bottom is covered with an algae infestation that covers some of the coral, and the neither the coral nor the fish were that plentiful. But that's just my opinion.
Footnote 7: The signaling flag was not the only beach convenience. The resort also has a nice bathroom area at the far end of the beach huts. There are toilets, of course, but also some showers and towels. Very nice.
Footnote 8: The birds on Petit St. Vincent are very aggressive and well trained about the eating habits of the guests. As soon as lunch came, so did a flock of grackles, who sat in the nearby trees waiting for a chance to swoop in and grab some lunch.
Footnote 9: I mean beside the manchineel trees, lack of fresh mangos, and snorkeling that is not as spectacular as the Tobago Cays.
Footnote 10: As we walked down to the barbeque there were little fireflies lighting the way. It was pretty looking down off the bluff and seeing them scattered here and there sending out their little light signals. I wonder if they were signaling for their laundry too.
Footnote 11: I know what you are thinking, a message from the manager, maybe it was an apology about our laundry. But no, the notices were just announcements of the barbeque, turtle release, cocktail party and a reminder about when we would be picked up on the day we left.




Introduction | July 14th (travel day) | July 15th (Falls of Baleine) | July 16th (Petit Byahaut) | July 17th (La Soufriere hike)
July 18th (sail to Bequia) | July 19th (Union Island) | July 20th (Sandy Island) | July 21th (Tobago Cays) | July 22th (Petit Tobac)
July 23th (arrive at PSV) | July 24th (West Side Beach) | July 25th (Atlantic Beach) | July 26th (Mopion) | July 27th (travel day)
Photo Galleries

GouldHome | Travel Journals
Text and images © Copyright 2004 Daphne and Joel Gould. All Rights Reserved.
For comments or suggestions about this site contact Daphne Gould.