July 25
We go snorkeling at Atlantic Beach, then return to the beach to see our baby turtles all grown up.
We woke up to beautiful skies again this morning. The sun was shinning on my bed. Some people would probably want their shades closed in the morning, but I like the sun.
We tried something different for breakfast this morning. I ordered a mushroom omelet, toast and mango, but alas they were out of mango and brought me papaya instead. Once again, no mango. Joel got fried fish, which turned out to be kingfish again, so he was happy. The cheese selection wasn't the best since it only included two types of cheese -- brie and gouda. I think. I didn't really like the mushroom omelet that much. it was brown and I don't like my eggs browned. I think I will stick to something else next time.
After breakfast we headed back to our room to do a little more work on the puzzle and then we got into our bathing suits. When we asked at the office, we were told there are two good places to snorkel around the island -- the southern end of West Side Beach and the Atlantic Beach on the east side. We visited the west side the day before, today we were going to see what the east side was like.
The Atlantic Beach was very pretty and they have little thatched umbrellas all along the beach, and really cute crabs frolicking on the rocks. If you stay at one of the beach cottages (which are at Atlantic Beach), it would be very convenient to get to the water from your cottage. From cottage 4, on the bluff, we had to walk, but it wasn't that far.
To get into the water at Atlantic Beach, you can walk down the jetty, and climb down the latter at the end of the jetty. Once in the water, the first site of coral that you come to isn't that interesting. But if you go out the next bunch of coral, it is quite nice (1). I saw two more chain moray eels. I swear, the grenadines has more eels than I have ever seen before. And since they hide in the rocks you know there are even more than you actually see. I also saw a couple of different crabs and a good amount of fish.
The coral off Atlantic Beach was very nice; not many colors but green and pretty. The sea fans were especially nice, but there were some wonderful brain coral and well lots of others that I don't know the names. of. In addition, I saw a flamingo tongue, and several varieties of tubular worms.
After a quick shower we went off to lunch. I love the Petit St. Vincent lunches. Lunch is buffet-style, with lots of wonderful salads and fruit and also pot roast, ham and lox. For dessert, they had a banana cake that was wonderful (2).
After lunch, Joel and I went back to our cottage finish our puzzle (3). We had resolved to finish it before we left the island. At 2:00 there was a bell ring (4). Yes, they finally delivered our laundry. Thank god. We both had only kept one sun shirt that we had worn now for two and a half days, and the shirts were getting ripe. I reveled in my clean clothes.
At 2:30, there was another bell ring; this time it was a note. The note said the staff of PSV were releasing some turtles today on Atlantic Beach by the jetty, at 3pm. That sounded like a good photo opportunity for Joel, so we put on our shoes and walked down.
At the beach, they had six hawksbill turtles in containers that they were going to release into the ocean. The turtles were born on Petit St. Vincent, but were collected and raised at the turtle research facility on Bequia for one year, before being returned to PSV. You may remember the box of baby turtles from when we first arrived on the island. Well today those turtles were all grown up and ready to face the world on their own.
Most of the guests turned out to watch the staff release the turtles at the top of the beach. Then the turtles laboriously crawled towards the ocean, while people took pictures. One of the turtles got turned around so the staff brought him closer so he could make it into the ocean. It was fun watching them get into the ocean and swim away. Turtles are so cute (5).
After the turtles, we went back and finished our puzzle. Yeah! And none of the pieces were missing. We wrote a note on the inside cover with the date (there were already a few notes there left by other guests from years past). Then the puzzle went back in the box and was left next to the signaling flags to be picked up.
Tea came at 4:15. On our 10th anniversary trip to Bermuda, we got spoiled by afternoon tea time at the Ariel Sands resort. They served both tea and an assortment of cakes and cookies. At Petit St. Vincent, they have a form to order tea so we use it each day to order afternoon tea and cookies. Unfortunately, although the tea was fine, there wasn't one cookie on the plate that Joel liked. Poor Joel. He keeps asking for cookies without nuts or plain pound cake or crackers (6), but all you get is the a set cookie plate. They obviously have them pre-made and just take one when someone orders tea.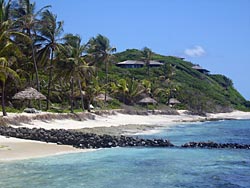 During tea we played Starship Catan again. Joel barely won, again. After tea, Joel found a use for the cookies. He "accidentally" left the plate of unfinished cookies on the deck, then went back inside, camera in hand. First to notice were the seagulls, who seems to be big fans of the Petit St. Vincent cookies. After the seagulls flew off, the grackels came in to clean up. Such an efficient and well trained crew to keep PSV clean and tidy.
Later in the afternoon, Joel as usual went to take photos of the sunset while I wrote in my journal. Unfortunately, sunset wasn't very exciting this day, oh well.
Dinner was two plates of mahi mahi. I was very annoyed at Joel since he wouldn't order the red snapper. I really wanted to try the red snapper, but wanted to eat the mahi mahi as my dinner (7). Dessert was strange -- Guinness ice cream. Yes, that is not a typo, beer flavored ice cream. It was an interesting combination, but not my favorite. Joel had some dish that started with "J" followed by a whole bunch of other letters that I can't remember (I must have had too much beer in my ice cream). But the name translates to "yummy dessert with chocolate on top". I ate a lot of it. Joel is hereby forgiven for the mahi mahi incident.
---
Footnote 1: After the Tobago Cays, none of the coral we saw at Petit St. Vincent compared. But it was still nice. In order, the coral around Mopion was the best (see the journal entry for July 26th), followed by the coral off Atlantic Beach, with the coral off West End Beach being the least spectacular.
Footnote 2: The guests are not the only residents of the island who enjoy lunch at PSV. The native bird population is also very interested in your lunch. Should you stand up from the table (for example to visit the buffet again), the local birds will swoop in to steal what they can. Here is a picture of one of the birds that had landed on a vacated chair at our table during lunch.
Footnote 3: We want back to our cottage for other things as well, but you do not need to really read about that. Suffice it to say that our cottage was very private, and we were still waiting for our laundry.
Footnote 4: The large bell outside the cottage door that the staff uses to signal the guest. A few seconds warning to make sure you are decent.
Footnote 5: The pictures of the turtles were some of my best photography from the whole trip. Most of the guests were using small point and shoot cameras from way far away, but I got right into the sand with the turtles and used my zoom lens to fill each picture. In addition to the picture on this page, you can should also look at these: pic, pic, pic, pic, and pic.
Footnote 6: The first day we ordered tea, we just asked for tea and cookies. After discovering that Joel didn't like the cookies, we got more elaborate when filling out the form. On subsequent days we asked for cookies without nuts, simple pound cake or just crackers, but to no effect. We were also unsuccessful getting any decaffeinated tea. Oh well, at least we finally got our laundry.
Footnote 7: As I mentioned on Petit Byahaut, the right way to enjoy the cuisine of the islands is to have each couple order two different dishes and share. It almost always works.




Introduction | July 14th (travel day) | July 15th (Falls of Baleine) | July 16th (Petit Byahaut) | July 17th (La Soufriere hike)
July 18th (sail to Bequia) | July 19th (Union Island) | July 20th (Sandy Island) | July 21th (Tobago Cays) | July 22th (Petit Tobac)
July 23th (arrive at PSV) | July 24th (West Side Beach) | July 25th (Atlantic Beach) | July 26th (Mopion) | July 27th (travel day)
Photo Galleries

GouldHome | Travel Journals
Text and images © Copyright 2004 Daphne and Joel Gould. All Rights Reserved.
For comments or suggestions about this site contact Daphne Gould.