July 19
We sail from Bequia to Union Island and enjoy fresh tuna prepared two ways.

It was our first night on the sailboat; but I didn't sleep well that night (1). It was too hot below deck. We couldn't leave the port holes open all night because it was drizzling off and on. Joel wasn't bothered at all; he thought the temperature was perfect. But then he is always colder at night then I am. At Petit Byahaut, Joel used a blanket and I didn't even want my sheet most of the time.

Today we sailed to Union Island. But first, we made a trip into the town of Port Elizabeth. I found some flip flops at one of the boutiques. My current sandals were giving me blisters. The new ones will too, but in different spots so hopefully they will be good enough for quick trips to shore.

Then, we took off for Union Island. It was a four-hour trip and we left at about 11am. I, of course, couldn't take not eating lunch. Jeremy said they don't usually eat lunch while at sail, but they brought out some bread, cheese and sausage for Joel and me.

Jeremy had his fishing lines out to try to catch some tuna. He said it was a good spot to get tuna. But, after hours or sailing and no tuna, Jeremy tried switching lures. One lure had been taken (it was missing from the fishing line, when the line was reeled in). In the past, Jeremy said that lures those didn't work he put on "old reliable" and indeed, just a 10 minutes or so from the island he caught a small tuna. Fresh fish for dinner!

Except for the last minute catch of the tuna, it was a rather uneventful trip. The wind was down and the water fairly calm (2).

Chatham Bay was quite pretty. There were several other boats anchored in the bay. Soon after we arrived, Joel and I quickly donned our snorkel gear and jumped in. The water was really too murky to see much, and the coral not very pretty, but we did get to see some fish. On the way over we saw some turtles and a barracuda. Around the point (north side of the bay) was a huge school of ballyhoo. They reminded me of the schools of sardines that are huge, but this is a bigger fish. On the way back I saw some very large bar jacks and another turtle. All the turtles that we saw in Chatham Bay were small (3).

After swimming to the point, we had to fight our way back to the boat. The wind had kicked up and was pushing us away from the boat. It took us about twice as long to get back as it did to get across the first time.

After we got back to the boat, we had cocktails (well I did, Joel doesn't drink), and sashimi -- tuna, of course. It was wonderful. It couldn't have been more than two hours since the tuna was pulled from the sea.

Jeremy decided to take a swim before he went out to fish for mackerel. Right under our boat were several tarpons. I wish I hadn't changed out of my bathing suit, but it would take too long to put on. He said that one of the tarpons had taken the tuna head from our meal and bit it right off the rest of the bones. When Jeremy got back from (unsuccessfully) fishing he told us that he had also seen a shark in the water. I'm glad I hadn't seen it while I was swimming (4).

Dinner was, of course, tuna -- pan seared. It was delicious.

If you noticed Jeremy did a lot of fishing, it was true. One of the things that attracted us to Fortitude (5) was the comment on their web page -- "You will be delighted with his fishing skills!". Since we love fresh fish, and do not fish ourselves, this perked our interest. Although by the end of the trip, we only got fresh fish once.
Some notes about the menu on the sailboat
Food service on a small sailboat is nothing like a restaurant, or even a small resort like Petit Byahaut. With only two guests, and limited food storage and preparation facilities, choices are limited and usually selected in advance. However, that does not mean that the food does not match the guests tastes or high expectations. It's just handled differently.
A month or so before the scheduled sailboat trip, guests supply the boat captain with food preferences. Not particular meal choices, but general likes and dislikes. Then, just before the guests arrive (we assume), the sailboat crew prepares a menu and buys the necessary food for the entire trip (6).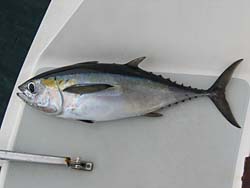 Thus, when we arrived on the boat, Jeremy and Vanessa already had a good idea about what we would be having for each meal. There were choices, of course. Similar to the way things are at home, there was a freezer stocked with a small variety of foods; so, for some meals we could pick one dish over another. But it's not like a restaurant; there is no menu, just a variety of what was available.
Technically, eating on Petit Byahaut was not much different. For most meals, there were exactly two choices - pick one. But it felt different. And certainly dining at Petit St. Vincent (as you will find out if you read further in this travel journal) offered even more choices. So yes, cuisine while sailing is different and you just have to set your expectations accordingly.
That said, the food on Fortitude was excellent, although by the fifth day I got tired of the salami. And we both wished that Jeremy had more luck catching fresh fish.
Footnote 1: You might notice a trend here. Daphne never sleeps well on the first night in a new bed. Although sleeping on the sailboat was hard for all five nights.
Footnote 2: We were plagued by calm winds for our entire time on the sailboat. A tropical wave came though on the night of July 19th, and when tropical waves come through, the days before and after the wave are often calm.
Footnote 3: There are no underwater pictures from this snorkel trip because of the murkiness of the water. I did take this picture, however, while we were swimming.
Footnote 4: Actually, I am not sure that Daphne's statement about not wanting to see the shark was true. A few days later, when we went snorkeling on the windward side of Horseshoe Reef, in the Tobago Cays, Jeremy and I spotted a small nurse shark. But the shark swam away before Daphne got a look and she was upset that she missed it.
Footnote 5: The broker handling our sailboat booking gave us a selection of available sailboats.
Footnote 6: The sailboat does stop in ports, almost every night, so there is plenty of opportunity to go ashore and pick up more supplies. In fact, Jeremy went ashore to shop when we were in Bequia, and again when we were in Carriacou. But did he buy more food -- no. Did he get some more fresh water -- no. Whenever he had the opportunity to pick up supplies, Jeremy went right for the essentials -- beer.




Introduction | July 14th (travel day) | July 15th (Falls of Baleine) | July 16th (Petit Byahaut) | July 17th (La Soufriere hike)
July 18th (sail to Bequia) | July 19th (Union Island) | July 20th (Sandy Island) | July 21th (Tobago Cays) | July 22th (Petit Tobac)
July 23th (arrive at PSV) | July 24th (West Side Beach) | July 25th (Atlantic Beach) | July 26th (Mopion) | July 27th (travel day)
Photo Galleries

GouldHome | Travel Journals
Text and images © Copyright 2004 Daphne and Joel Gould. All Rights Reserved.
For comments or suggestions about this site contact Daphne Gould.