Once again, like clockwork, we held our annual all day gaming party in honor of Daphne's birthday. The party runs from 1pm until 11pm, and people are free to come and go according to their own busy social calendars. While here, we strongly encourage people to break into small groups and play any of the multitudes of games people bring to the party.

Last year I said, "This year [2001] was our biggest gaming party ever." But that is no longer true. The 2002 edition was even bigger. Just look at this picture of the people who were still here at 11:15pm. We also, for the first time ever, ran out of game playing surfaces and had to send one group into our bedroom to play on our bed. Finally, for the record, we ordered 11 pizzas for dinner and finished 10 of them.

Daphne had bought me two new games for Christmas, and my brother-in-law bought me a third. I did not buy Daphne any games. Instead, she got a DVD player for her birthday. The new games were Dragon Delta, Ra and Das Amulett. Dragon Delta is sort of a cross between Twix and RoboRally. It is a quick game, lasting less than half an hour. Caroline, Scott and I played it while waiting for some of the longer games to break up.

Ra was one of the more popular games. It is a bidding game, where the players complete for a variety of tiles in order to score points using numerous scoring rules. Daphne won our first game, but I played at least twice more during the evening. My third new game is Das Amulett. We played with six players, and in the end, Caroline squeeked past me for the victory.

Besides Ra, Settlers was also popular; however, the players complained their game of the Nurnberg variant was not as fun. But, the real winner this year was Carcassone, German game of the year in 2000. We had two Carcassonne sets at the party, and one of them was always in use.

As in years past, I asked our guests to contribute to the party journal. You can also look though the pictures I took at the party.
Party Journal
Joel: Its 1:20 and Alex is the first guest to arrive. No one ever comes on time. How many people will show up this year? The invitation list was longer than years past, but one can never be sure how many people will respond. Just in case, I asked the Brooks' for another table and set of chairs.
Carcassone: Greg follows the Cloister strategy, combined with a part of the big field.
C--- won RoboRally in the Rice Fields [Dragon Delta] with no aggressive moves, very little thought and some blind luck.
Streetcar - Steve, Bernie, and I [Dean] played the 3-stop version. Bernie was all set for an easy win until he realized he was reading the wrong stops on his card. But it was still pretty fast. I won.
Carcassone: Andy won and still has no idea how the game is played.
Die Siedler Von Nurnberg: Nat, Liz, Scott, and Ellen played this game, which had gotten good reviews at the last party. This time, the game was abandoned with three of four players within two points of winning: no one really wanted to find out who won. What went wrong? It is possible that this is a game that should only be played with no distractions. Certainly we had numerous times when the next player was off chatting over snacks or answering questions rather than playing. The result was slow play, which only increased the incentive to go off and chat. The other possibilities are that it is overly balanced with four players, that we drew cards that made for slow play, or simply that the previous positive experience was a fluke. Or perhaps we're just grumpy. Who knows? Still, abandoning a game at a party is a first for me. :-(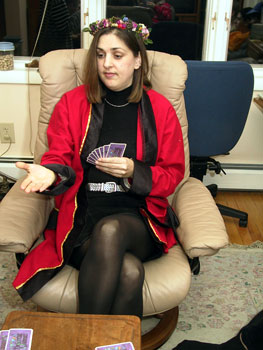 Die Siedler is definitely a very popular game. Daphne, Steve, Bart, Dan and I (Bernie) played an expansion version game. The game was supposed to one where wheat and the wheat port were going to dominate. 4 of the 5 red 6 or 8 point segments where on wheat. Daphne obviously went for the wheat port. The game continued with 6's or 8's rarely being rolled. On the few occasions when they were rolled, the robber was on her 6. Even with all this against her, Daphne still came in second. She was 1 move away from winning when an 8 was rolled, giving Bernie the win.
Happy 40th. Many there be many more gaming parties in the future. -Ken
Glenn: This was my first time. I was a bit nervous but I happily ended up at a game where no one had an advantage. We were all beginners. The game was The Great Brain Robbery. I have to say it was just about the silliest game I have ever played. Nonetheless, we all had a great time. I figured out my fatal mistake even though I had 5 hit points, and was therefore likely to be able to challenge anyone else on the train for their brain, I made my move too soon: I hadn't enough experience points to install my newly acquired brainpower. Oh well, next time I'll know!
The IQ in the Great Brain Robbery briefly ranged as high as 235, but it didn't last.
Victor: Happy Birthday Daphne, as always, it was a lot of fun! Thanks for having me over!
Dave (Albeck): Added one more obscure tile game to my repertoire - in a few more years I'll consider myself worthy of this place.
Tani: Happy 40, Daphne! I am the one who does not play games, coming just for the people (oh, and the pizza). Great to get a little Dragon nostalgia.
Happy Birthday, Daphne from Laura and Andy and Sarah - don't fret. 40 is still really young!
Another wonderful game of Carcasonne (or however you spell it). A game with two new players. Final score 83 to 82. Everyone was very happy.
Ellen, Steve, Scott and I played Ursuppe. Steve and Ellen were new to it. I managed to win by a single point with Speed, Escape, and Streamlining for most of the game. Steve did a lot of good feeding with aggression. I was playing yellow and we ran out of yellow cubes to excrete, something I'd never seen before.
Craig, Sharon and Colin came this year (our first time). Craig had a wonderful time playing Ra (with indifferent success). Sharon enjoyed playing Great Brain Robbery. Much pizza and assorted junk food was consumed. Thanks Joel and Daphne, Munch Munch. Happy birthday Daphne, and good luck for the new year.
Happy Birthday Daphne! When I heard you were turning 40, I couldn't believe it. I would have guessed you were much younger.
Dan: The games were fun, but have you ever noticed on a game day that the majority of guests spend the majority of their time losing? In spite of this everyone seems to have enjoyed themselves. I played Ra (with Joel, Craig, Scott, and Caroline), Boggle (with Dean "the Dean of Boggle" Sturtevant, Steve K., Liz, and a blonde guy with a huge vocabulary and quick eyes)
Dan: Arriving early this year was definitely a good idea, there were a lot of wonderful lunch snacks that were gone before dinner.
Chronology - After playing this game, I can definitely tell you that Hank Aaron broke Babe Ruth's home run record before Mark McGuire did. Really. And St. Augustine, the oldest city in North America was founded before the American Civil War ended. But I still don't know when the NFL instituted the player draft. The object of the game is to place such random events in their proper order. Easy at the beginning, with only one event to compare with. Hard as you approach the winning number of ten events.
Gnomic - Nat, Greg, Sharon, Linda, Noa, and Steve M started a game of Gnomic, in which the game is the making of the rules for the game. Joel declared that we were all laughing too much, so it must have been as much fun as it seemed. The rules, in the end, were these:
All decisions must be unanimous.
The game will have a winner
Any player who brings a new player into the game gets one point.
3 points define a triangle.
Points will be recorded in a point log
It is legal to trade different varieties of points.
All players are dealt 3 cards. (Take 6 cards)
Players may look at their hands.
Disputes on interpretation of rules is decided by a tribunal of 3 with thumbs up on the table.
Office of recorder of rules goes to verbose proposers of rules (that are passed)
A triangle wins
Person whose children (child) require to leave first is the honorary winner in absentia.
Players may fight duels (rock/paper/scissors). Winner gets losers points.
Dueling is punishable by loss of 1 point.
Points can be bought by cards.
Duels can only be refused in the poetic form they are proposed.
Authors of accepted rules shall receive a card.
Composing a 30 line epic about Gumby receives a triangle.
If no other means of determining a winner, player who falls asleep first wins.
Players shall receive 1 point for the greatest common denominator of their cards.
At this point, Linda figured out that she had a GCD of 4, which, when you took off the point she lost dueling, gave her 3 and a triangle and the win. J
Two attempts at the Gumby epic were started:
Gumby
Pokey
Friendly
Folky
Gumby green and rubbery
Hiding in the shrubbery

Forth he went the bold eraser
Forth to slay the board defacer
Chalk in hand to force him back
Across the playroom he did attack.

Dan: Well, it was my first time playing, I was completely unaware of the rules, I was frequently wool gathering during play, but in spite of it all. I won at Carcassonne! My strategy was simple -- draw 3 out of 4 cloisters. "But how do you draw 3 cloisters?" you ask? Ahhh.. that will remain my secret.
Cindy Pribble Kochanski: Well, I spent at least 1/2 my time on toddler tracking, but it was a good gaming time - I played three games, and saw part of the Gumby movie while acting as a toddler bed. It was a good party and was definitely worth spending 10 hours in the car to attend. The kids also had a good time with K'nex.
Another night of misery and frustration. (Sentence fragment according to MS Word 2000)
David P: Thanks for such a great party!
Dean: Oops - here it is 11:20. Gee whiz! We had to break up Chez Geek. And I had forgotten to announce that I was the most successful at decapitating nobles in Guillotine. Great party - H.B. Daphne.
Ellen: So a final victory on my way out the door. Fields rule!
Dan (from e-mail): I just wanted to say I had a great time today; I always enjoy seeing old Dragon colleagues at your gaming parties. P.S. Reiterate to Daphne that those dough-wrapped hotdogs were delicious.

This web page (http://www.gouldhome.com/DaphnesBirthday02.html) was last updated on January 05, 2002. For any comments or suggestions about the site contact Daphne Gould. Contents copyright © 1999-2003 by Joel and Daphne Gould.