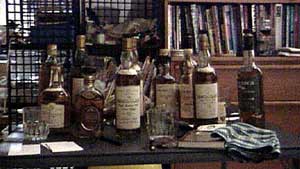 Scotch has long been one of my favorite vices. But until fairly recently all I drank was Chivas. Then Bernie introduced me to single malt scotches and my vice became much more expensive. But which scotch did I love above others? Joel thought we ought to have a tasting to find out. Bernie offered to host it and invited a few of our friends that also love scotch. We were a bit surprised to find out how few of us really did love scotch. Only four of us were there for the fun, Bernie, Nat, C-- and I.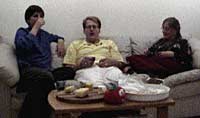 Our first tasting was a suite of McCallans. All of the McCallans are aged in sherry wood and they were 12 , 15 and 18 years. The 18 year old scotch was not well appreciated. It was much too sharp for any of us. The 12 and 15 year old scotch was loved by all of us. Though which one was better was hard to say. Both were quite different. In the end Nat and I chose the 12 and C-- and Bernie the 15.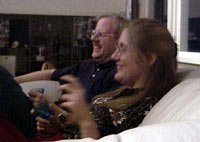 Our next taste was of two different Glenmorangie scotches. One aged in sherry wood and one in madeira wood. Both were matured for 12 years. The sherry wood scotch had the best nose of all of the scotches we tried that night. It was well liked by all tasters. The madeira was good, but lacked the body of the sherry.
The next two scotches were Balvenie Doublewood (12 years) and Balvenie (10 years). I have no idea what wood the 10 year old Balvenie was matured in. I guess after 5 scotches already my note taking ability was slipping. I tried the 10 year old one first and just about spit it out. My notes only say "Yuck". I guess that sums it up. Then I tried the Doublewood. What a difference. It was the best scotch of the night, and I think most everyone agreed with me.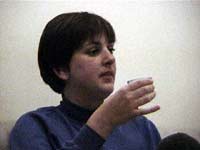 Next were four from different distilleries. Dalwhinnie was OK but not spectacular like some of the previous scotches. Cardu was good but still not up the previous ones. I wouldn't even taste Talisker, though it was liked by all the others. I've had it before and I don't like any of the island scotches. They are just too peaty for my tastes. The last was a blended scotch, Bushmills. It didn't taste anything like the other scotches. It was much more fruity than the others. I liked it but still not as much as the first scotches we had.
The winner of the night had to have been the Balvenie Doublewood with the two McCallans and the sherry finish Glenmorangie close behind. My personal favorite was the Glenmrangie with the Balvenie a very close second.
There was one other at the party with us, Jan our hostess. She doesn't like scotch so she took the pictures (Thanks Jan) and drank port instead. It was a fun evening but Scott finally showed up to take us home. We enticed him into joining us in a game of "Where is the brain?" before we all staggered into his car.

This web page (http://www.gouldhome.com/ScotchTasting.html) was last updated on December 19, 2001. For any comments or suggestions about the site contact Daphne Gould. Contents copyright © 1999-2003 by Joel and Daphne Gould.