Yosemite 2007
In September of 2007, Daphne and Joel spent a week in Yosemite National park, in California. We were joined by Bill and Judy, Daphne's parents, and spend the time hiking, taking pictures and just driving from place to place. This is a brief overview of our trip, as written by Joel. Of course, what you really want to do is look at the pictures, and there are links to the galleries below.
Our trip was in September, after the summer crowds but (almost) before the snow. In September, Yosemite is dry. This year especially, the waterfalls were all dry, or reduced to a trickle. Only a few of the rivers were running, and those were a shadow of their usual selves. Before the trip, Daphne bought me a book, The Photographers Guide to Yosemite by Michael Frye. The book suggests a number of places in the park to take pictures, along with the recommended time of year for each place. September is not a recommended time of the year for most views. On the other hand, it was much better than going in summer when the park gets even more crowded.
Our plan was to stay in the valley (Yosemite Lodge) for four nights, and then to travel to the high country and spend three nights at Tuolumne Meadows, sleeping in Bill and Judy's camper. However, things did not quite work out as planned. But more on that later.
The first few days were packed with adventures. We visited Mariposa Grove, and then drove down Glacier Road, including two hikes -- Taft Point and Sentinel Dome. The next day we hiked up to Nevada Falls and back. Although there was some water in the falls, the Mist Trail failed to live up to its name.
Our third day was spent around Yosemite Valley. In the morning Bill and I joined a photography walk organized by the Ansel Adams gallery. During the walk, we witnessed (and took pictures of) the start of a controlled burn. The rangers burn one or more of the meadows in Yosemite valley every few years to encourage new growth. The 2007 burn started while we were in the valley. The valley would be filled with smoke for days, but on Wednesday morning, we escaped to Tuolumne Meadows, as scheduled.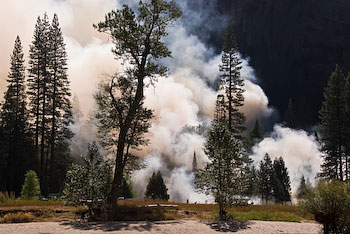 The first hint that our plans would go awry came as soon as we met up with Bill and Judy, soon after arriving at Yosemite Valley. Daphne's parents we staying in a trailer, in North Pines Campground. In fact, Yosemite was only one stop on a summer long trip out west for them. Daphne took care of our reservations, but we left the camping reservations up to Bill and Judy since they had the camper. However, once Bill and Judy got to Yosemite, they realized that they got reservations for the wrong campground. We had no reservations for our planned three nights as Tuolumne Meadows.
The next morning, we joined the line for campground reservations outside Curry Village. Luckily, we were able to snag two nights at Tuolumne Meadows Campground. So we would just have to come back to the valley for the last night.
The second hint of trouble came on our second night. We hiked to the top of Sentinel Dome, to eat supper and take pictures of Half Dome as the sun set. There we met Ranger Donna who was also visiting Sentinel Dome, on her day off, to see the sun set. During our idle chit-chat (we were up there for over an hour), we asked about the weather forecast. "There may be snow in the high country on Thursday," said Donna. "High country?" I asked. "Yes, Tuolumne Meadows," answered Donna. Great. Hard to imagine with the temperatures climbing into the 80s in the valley (although it was shivering cold on Sentinel Dome).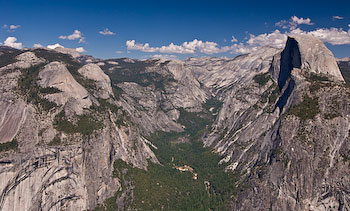 With a smoky valley (from the still smouldering meadows involved in the controlled burn) urging us on, we left for Tuolumne meadows on schedule, Wednesday morning. During the drive, we stopped for a hike at Tuolumne Grove to see more giant sequoias. We also stopped numerous times along the Tioga Road to take pictures. The view from Olmsted Point, looking back toward the valley, was a big disappointment because of all the smoke from the controlled meadow burn. But we were thankful that we were not sleeping in the valley that night.
Once we were settled in at Tuolumne Meadows, we went for a short hike. We found ourselves on an unnamed dome, where we stopped to take pictures. On the way back, we caught sight of our only black bear for the trip.
The next morning, we woke up to around 3 inches of snow. So much for our hiking plans. Thankfully, we had warm clothing, since we had expected temperatures as low as 30 degrees at night. So in the morning, we dressed up, and went for a hike through Tuolumne Meadows, as well as getting the scoop on the weather forecast.
Weather forecasting in the Yosemite highlands is not an exact science. But the rangers said that there could be a storm coming that would drop up to nine more inches over night. Unfortunately, nine more inches would definitely strand the trailer, so after our morning hike, we abandoned the rest of our plans for the Tuolumne Meadows area and went rushing back to the valley to see if we could find lodging.
Last minute hotel reservations in Yosemite valley are almost impossible. Fortunately it was no longer the summer season, so a couple of rooms could be found. Thursday, we decided to stay at the Ahwahnee Hotel, which was a luxurious (and expensive) treat. Then on Friday, we moved over to a cabin with a bath in Curry Village. (Bill and Judy were able to find a spot for their camper in North Pines Campground, although they had to move the camper to a different spot on Friday.)
Once in the Valley again, we did some shorter hikes. Thursday afternoon, we drove around the valley taking pictures. Friday, we hiked up the Yosemite Falls Trail to Columbia Point. There was no reason to go further, the falls themselves were completely dry. Then Friday afternoon, we hiked around the Mirror Lake (or should I say "Mirror Meadow") area. Saturday was rainy in the valley. We left early for the drive back to Fresno, although we stopped at a few spots to get pictures of the storm clouds.
All in all it was a wonderful, if somewhat spontaneous trip. We experienced it all, sunny days, cloudy days, smoky days and even an early season snow. The only thing we missed was water in the waterfalls and rivers.
The Picture Galleries
I took over 1000 pictures on this trip. It took me two weeks of agonizing to select the 198 pictures worth saving. The pictures are divided into two galleries. The first gallery contains what a number of people have selected as the top 45 pictures of the bunch. The remaining wonderful pictures, in time sequence order, are in the second gallery.
| | |
| --- | --- |
| | (45 pics) These are the best pictures from our Yosemite trip, as selected by my reviewing team. |
| | (152 pics) These pictures are also excellent and well worth viewing if you have the time. |
The Map of Our Travels
The following Google map contains points of interest from our trip. It shows all our hikes, most of the significant photographic locations, and the locations of our lodging for each night. Next to the map a brief summary of our itinerary:

View Larger Map - with details of hikes

Saturday afternoon - arrive at Yosemite Valley.
Sunday morning - drive to Mariposa Grove.
Sunday lunch - in Wawona.
Sunday afternoon - drive down Glacier Road, stopping at Washburn Point and Glacier Point.
Sunday afternoon - hike to Taft Point.
Sunday evening - hike to Sentinel Dome, where we had dinner and watched the sunset.
Monday morning - hike the Mist Trail to Vernal Falls and Nevada Falls.
Monday afternoon - After lunch at Nevada Falls, hike back down via the John Muir trail.
Monday evening - sunset on Sentinel Bridge.
Tuesday morning - photography hike in Yosemite Valley.
Tuesday afternoon - walk along Merced River in Yosemite Valley.
Tuesday evening - sunset along Merced River.
Wednesday morning - drive to Tuolumne meadows.
Wednesday morning - stop and hike at Tuolumne Grove on the way.
Wednesday afternoon - hike along the Tuolumne River.
Thursday morning - hike through the fresh snow on Tuolumne Meadow.
Thursday midday - drive back to Yosemite valley, to escape the predicted snow storm.
Thursday afternoon - drive around Yosemite valley taking pictures.
Thursday night - luxurious night at the Ahwahnee Hotel.
Friday morning - hike up the Yosemite Falls trail to Columbia Point.
Friday afternoon - hike around the Mirror Lake area.
Saturday morning - drive back to Fresno, taking pictures along the way.
If you like the maps, I have one more for you. Here is a map with nothing but pictures of half-dome from different locations around Yosemite National Park. Enjoy.
About My Photography
Although I was the only person in our group with a camera (for most of the time), I was not completely alone. Yosemite must have the highest density of photographers of any wilderness area in the United States.
For this trip, I used a Nikon D200 digital SLR camera. I used two lens, the Nikon 18-200 f/3.5-5.6 VR most of the time, and the Tokina 12-24 f/4 for wide angle shots. I had a circular polarizer, and used it on some of the shots (although it was a pain to put on the lens and take it off again). For all of the trip, except for the steep Nevada Falls hike, I also carried a Benro carbon fiber tripod with an Arcatech Ultimate Ballhead. Yes, I hiked with the tripod.
I shot all my pictures in RAW format. Then, for post processing, I used Adobe Lightroom. I can not praise Lightroom enough. After years of using a separate photo browser along with Adobe Photoshop for post processing, Lightroom is a wonderfully efficient product. Yes, I only kept around 200 photos, but I ended up post processing almost all of them, which would have been way to time consuming using Photoshop.
If you like my pictures, please leave a comment or vote for them. You can vote for a picture by moving your mouse over the image and then clicking the green thumbs up icon that appears in the corner. You can also order prints of any of my pictures through the photo gallery. I provide this service at cost, I do not make any money from the prints.
Text and images © Copyright 2007 Joel Gould. All Rights Reserved.
For comments or suggestions about this site contact Daphne Gould.