June 26
Last night we all arrived before dark! There is a special chaos when you get to the put in after dark and have to get all the boats and gear off when you can't see. Well it was still chaotic. Two of our tents hadn't been used before. Beth helped Ben put up the tent he would be using, which happens to be Beth's tent. Beth would be using our new backpacking tent. It was an experiment; the tent is a single walled and we wanted to see how bad the condensation was. Well, setting it up in the growing dark -- we had unloaded all the boats and gear and by now it was getting dark very quickly -- was not the best. In the morning her tent was dripping, because, the back window had sagged down and prevented the airflow. Not a very good trial, but we would try again. Luckily, the trip was predicted to be sunny with no rain.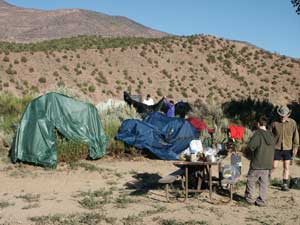 The way we shuttle the cars is to take all five cars down to the take out with just the drivers. Then the drivers all pile in to one car and go to the airport in Vernal, Utah. From there, they get a ride in the plane back up the canyon. It doesn't sound too bad, but the drivers (and organizers) have to be up by 6am so they can eat and be off by 6:30 ... or 7:00 as reality sets in.
During the shuttle, the rest of us put the boats together. Very slowwwlyy since we had all morning to do it.
The first morning was cold - burrrr; but, by the time the shuttle drivers came, we were broiling. But wait not all of the shuttle drivers came -- only the guys. The shuttle service, Dinaland Aviation, was supposed to have a six person plane ... and they do; but it was off elsewhere, so they had to use their four person plane and make two trips. This added an hour to our starting time, and we were quite ready to go by the time the plane got back the second time.
But, before we could push off we had to get all the newbies together, so Joel and I could give the how-to lecture. Things like keeping your feet downstream when you fall out of the raft, how to peeing in the river, and how to shit in the shitter. After that, we were off.
The Green River was not green today. It was the "Red" River instead (pic) and it was fairly low and slow. We had to row to keep the rafts moving downstream.
We ate lunch at Wade & Curtis. It was a hot day so people didn't eat much. We also hit a few equipment snags -- we had no knife out to cut the tomatoes and no cutting board -- but besides that it worked out great.
After lunch it was slow rowing again, but we had a few riffles. Just above Upper Disaster Rapid we all stopped to scout the rapid (pic) -- well all of us except Dave who couldn't be bothered. He just went right through. Looking at it made me a nervous. When was the last time I rowed a raft? Except for rowing Horn in the Grand Canyon, it had been over 10 years. But it was definitely like a bicycle - once you learn you never forget. I hit it just perfectly. But then we hit Lower Disaster. I saw Damon start down -- then stop dead in the water. He was stuck on a rock. There were three rock gardens in Lower Disaster. I got through 1 & 3 unscathed, but not number 2. I put myself into a fast spin so I could sneak between two rocks, but lost the grip on my oar. We kept spinning -- right onto a rock. Whoops!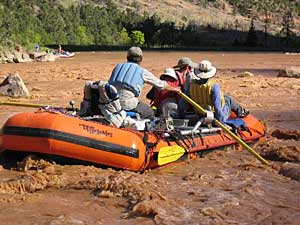 I had the little boat - only 11 1/2' long. It was a joy to row through these rapids. It moved - unlike all the other heavy rafts. But it did have a flaw. It sat so high on the water that I had to constantly row just to keep up with the other boats. I would have given the oars to Joel more, but even the ripples are too rocky. It was best that I stayed at the oars since I could react to the rocks very quickly. Sometimes we couldn't see them until we were right on top of them. The thick red river hid the rocks right below the surface.
We pulled into camp at Pot Creak 2. The tent spot we picked out was crawling with red beetles (pic). Ben thought they were ants and almost moved his camp. The kids got their tents up alone this time and Beth pitched her tent so it was taut and the air could flow.
I had the older kids in the group chop stuff for tacos tonight, while Ben Harding cooked up the hamburger.
I've had trouble finding time to write this journal. I was rowing, so can't write while I'm on the river. I was the trip organizer so have to be around during meals, whether or not I do the cooking since I'm the only person who knows where the food is. So I can't journal during meal times. After dinner I started writing, but got into a nice conversation with Ted. By the time we finished talking about family and kids, it was dark and bed time.




Introduction | June 26th | June 27th | June 28th | June 29th
Photo Galleries

Gould Home Page | Travel Index
Text and images © Copyright 2003 Daphne Gould. If there are any problems or questions email Daphne Gould.